Our Fleet
At Saginaw Party Bus we have great vehicles in our fleet that are sure to meet any of your party needs.
10 Passenger Charger
You'll love rolling around Saginaw in this luxe jet door Charger limousine for 10 to 12 passengers! The interior of this limousine offers plush leather seating, a beverage cooler, TV, DVD, CD, Bluetooth, and USB - everything you need to enjoy your celebration! It's a limousine that's ideal for any type of event or outing! If you're interested in booking this beautiful limousine, just give us a call!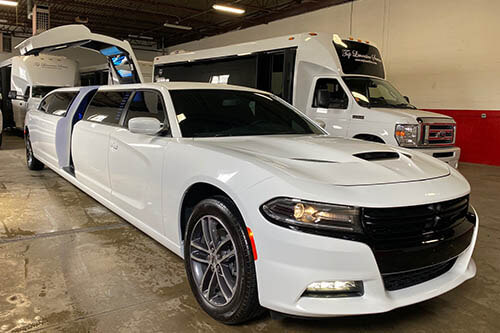 10-12 passenger capacity
TV and DVD player
Jet doors
Leather interior
Booming stereo system
USB, CD player, and Bluetooth
Laser and strobe lights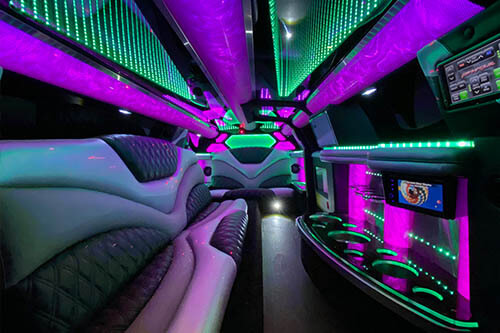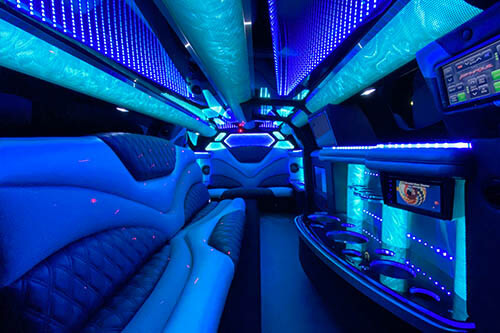 ---
10 Passenger Party Van
Our 10 passenger party van is unlike anything you've ever traveled in before! This amazing vehicle is a hybrid between a party bus, passenger van, and limousine, making for a unique transportation experience that is sure to satisfy your party craving in an economical way. It has a small passenger capacity, making it perfect for a small group looking to barhop in Saginaw.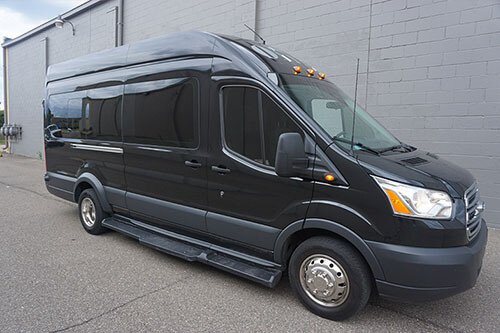 10 passenger capacity
Neon styled lighting
Convenient bar areas
Bumping stereo system
iPod/CD/MP3/AM/FM capabilities
Leather wraparound seating
Flat screen televisions with DVD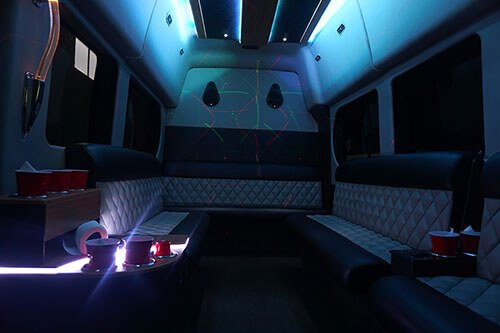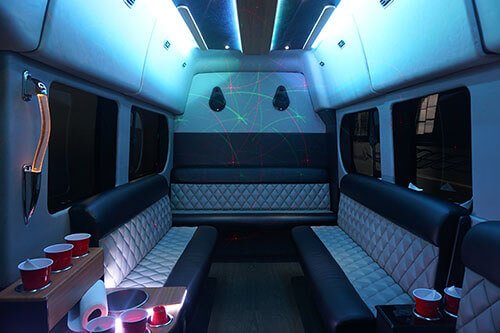 ---
12 Passenger Range Rover
This 12 passenger limousine is the perfect addition to your next bar hopping experience or bachelor/bachelorette party in Saginaw! This is a popular option with our customers because of the affordability and features. The modern interior is perfect for getting the party going, and the chrome dancing poles are ready for you to test out your dancing skills! Be sure to consider this bus!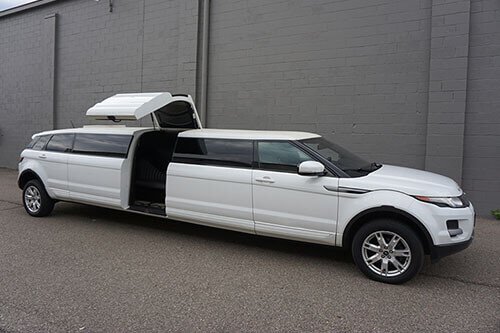 12 passenger capacity
Newly installed televisions
DVD/BluRay inputs
Chrome dancing poles
Contemporary lighting
Tri tone leather seating
Hardwood flooring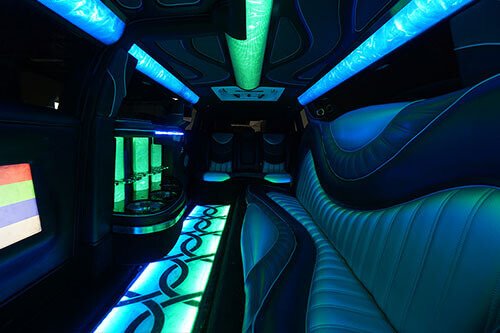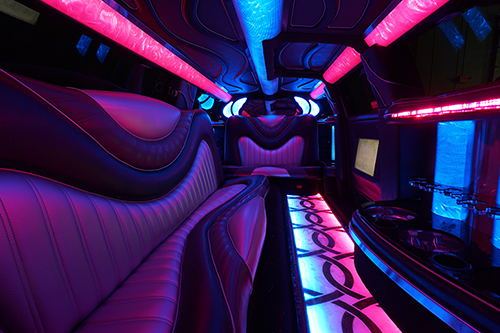 ---
12 Passenger Town Car
The 12 passenger town car is a great car for those who are looking for a more traditional way of luxury transportation. It being a limo draws all the attention to you and your friends as you stop to get in and out of your vehicle. Customers love this for their weddings because of it's sleek and classy look. Great for any occasion you may have.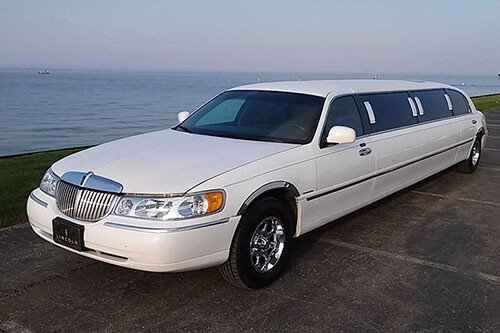 12 passenger capacity
Convenient bar areas
Bumping stereo system
iPod/CD/MP3/AM/FM capabilities
Leather wraparound seating
Neon styled lighting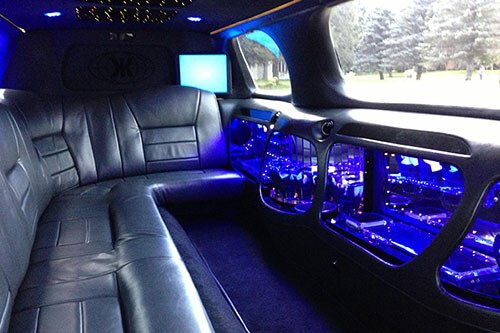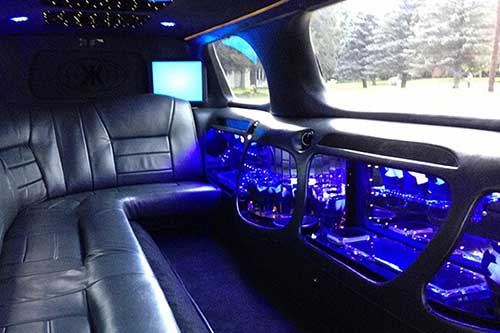 ---
18 Passenger Infinity
One of the new additions to our fine fleet is this beautiful 18 passenger jet door Infinity limousine! If you're looking for a spacious SUV limousine then this is what you need for your next event! This limousine has a custom interior with a great sound system and a full multimedia package for your enjoyment. You'll have a great time.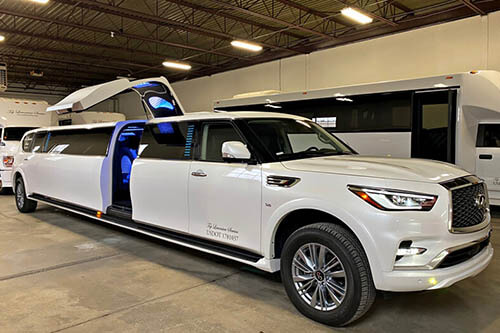 18 passenger capacity
Laser and strobe lights
Three beverage coolers
Incredible audio system
TVs and DVD player
CD player, USB, and Bluetooth
Tinted windows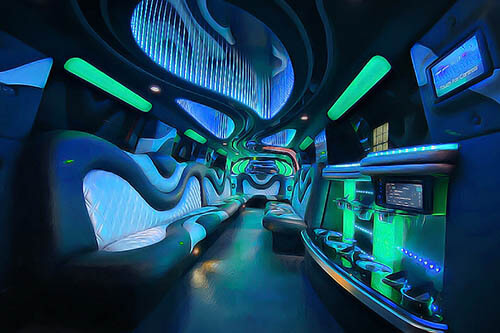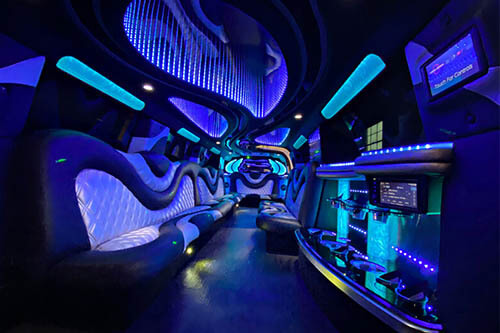 ---
20 Passenger Escalade
Our 20 passenger limousine is a hit with everyone who has seen it! When this beauty comes rolling down the street, you're sure to notice, especially with the sub woofer equipped sound systems. It has everything you'll need for a successful night out on the town, with a party filled interior that's hard not to enjoy!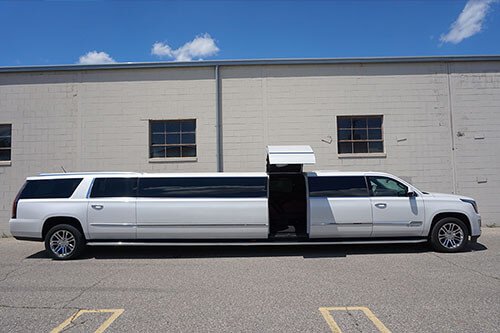 20 passenger capacity
Polished hardwood flooring
Professional leather seating
Neon lighting throughout
HD televisions
DVD inputs
Subwoofer & sound system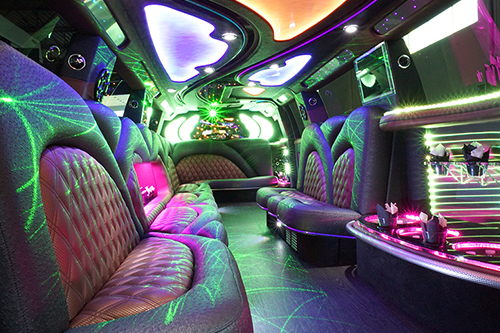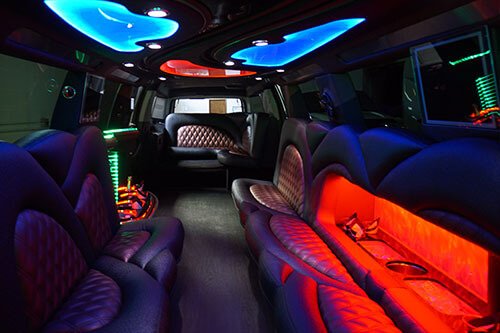 ---
28 Passenger Party Bus
Our white 28 passenger bus might seem unassuming from the outside, but you can be assured that the interior is made to party in! This is a spacious bus with room for all of your friends, and features that will impress everybody. Wallflowers can relax into the leather seating while the party people can dance on the hardwood dancing floor. Everybody wins with this bus!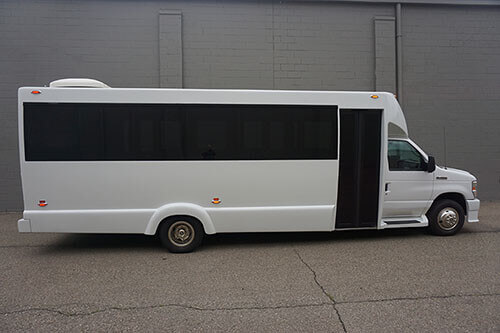 28 passenger capacity
Comfortable leather seating
Sound system with iPod inputs
Attractive hardwood flooring
Tinted windows
Bar areas with ice
DVD input equipped televisions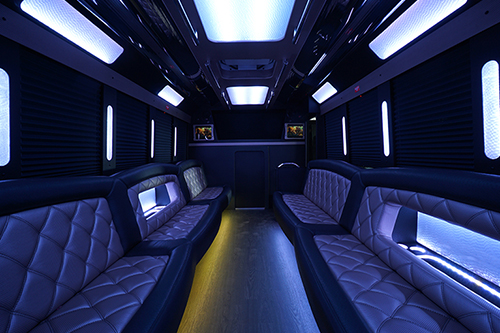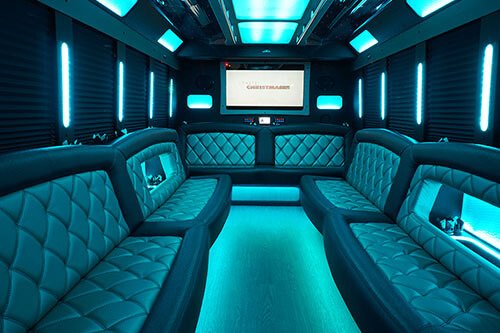 ---
30 Passenger Party Bus
This 30 passenger bus is a beauty from the inside out! The mesmerizing neon light dazzled interior is the perfect mood setting feature, as it makes you feel as though you're in a nightclub! There's nothing better than a vehicle specifically made to bring you the best party experience possible in Saginaw. Reserve this bus for a great time!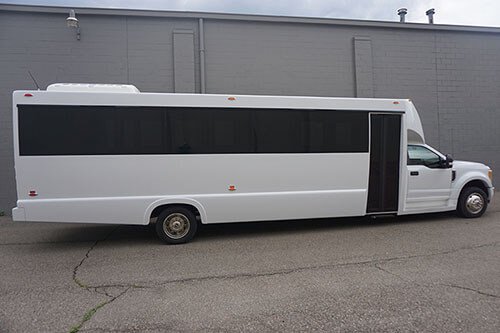 30 passenger capacity
Dazzling colored lights
Exotic hardwood flooring
Bench style leather seating
Modern TVs with DVD inputs
Premium audio system
iPod and MP3 capable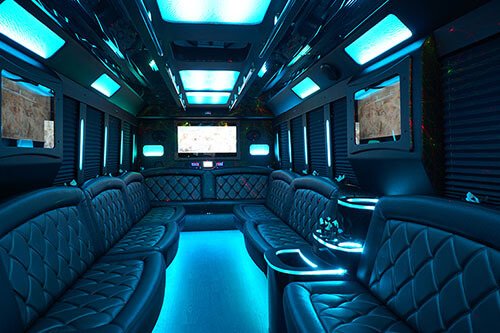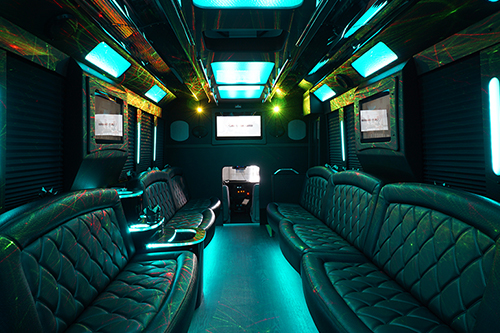 ---
34 Passenger Party Bus
Say hello to the newest addition to our fleet of premium vehicles! There's nothing better than this black and white 34 passenger bus. It's the perfect amount of space for a gathering of all of your closest friends. You're sure to enjoy this bus for your next bar hopping adventure, bachelor or bachelorette party, weddings, school dance, and more!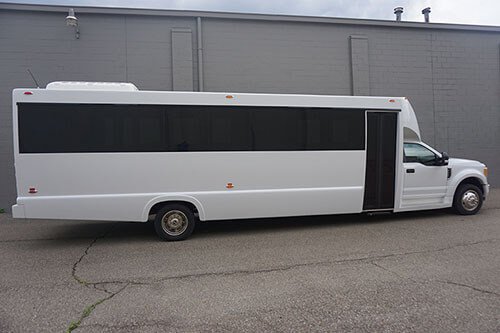 34 passenger capacity
Tinted windows for privacy
Dazzling neon lighting
Multiple flat screen TVs
DVD/BluRay inputs
Dancing poles
Hardwood flooring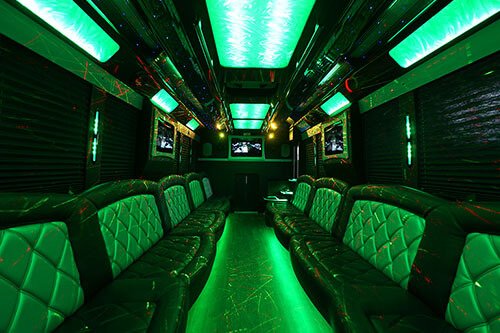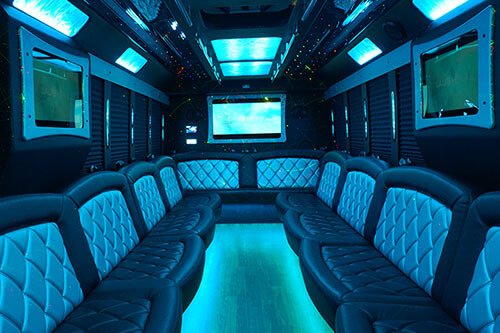 ---
35 Passenger Party Bus
Our 35 passenger bus is beautiful and spacious to accommodate all of your friends! Forget renting a tiny limousine when an option like this exists. There's nothing better than premium leather seating, amazing stereo systems with iPod capability for customized play lists, and televisions that can play all of your favorite DVDs. It's not a hard decision to make; book this bus today!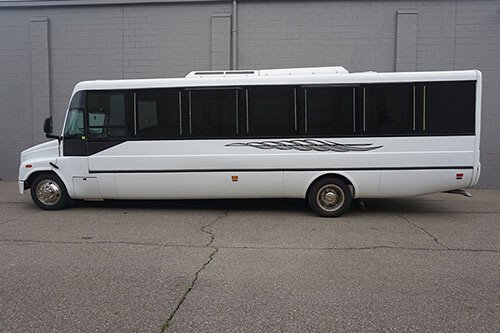 35 passenger capacity
Ambient neon lighting
Deluxe hardwood flooring
Wraparound leather seating
Ice filled bar areas with ice
TVs with DVD input
Tinted windows
iPod capable stereo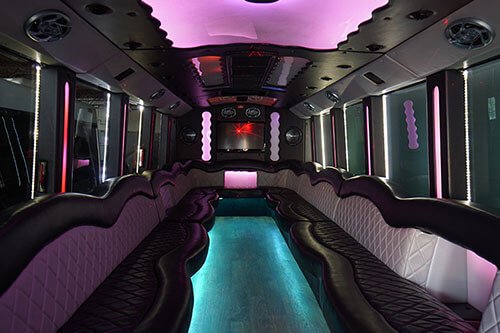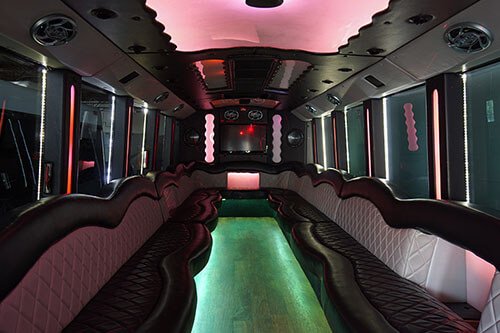 ---